Why Us?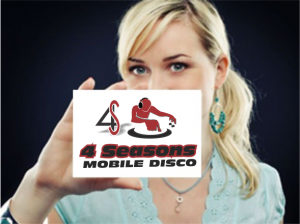 Whatever type of function it is that you are planning, the right music can play a very important part in the success of the event. The quality of the entertainment determines the success of your function. Good events will be remembered many years from now.
If you are seeking great entertainment with a reliable, professional entertainer that you can depend on – then you need to book 4 Seasons Mobile Disco.
With 4 Seasons Mobile Disco you have two options in booking a DJ for your function. First option, you can book the owner which is slightly more expensive, if he is not avaliable  on your date then one of the very capabable DJs will be able to assist.
Background information on founder, owner and DJ:
My DJ career officially started in 1991 and since then I have been involved with music, parties and entertainment ever since. I also have fast international DJ experience, as I spent four (4) years in Lagos , Nigeria where I worked at a radio station, namely Rhythm 93.7, whereby I presented the morning show. During this period, I had an estimated audience of approximately 4 million people. During my time in Nigeria , I also played at all the major clubs in the country, whereby the biggest party I ever played at was for a crowd of approximately 10,000 people. The other parties I did in Nigeria was the Halloween parties for the American Embassy; the Millennium New Years party for the British Embassy where we had in excess of approximately 2000 people from various nationalities; and I was also involved in many a private function.
I also spent 4 years in Dubai , United Arab Emirates applying my trade and have basically played at every hotel including the iconic Burj Al Arab and held a residency at a Club for a period of two (2) years. I have also done the New Years party for the British Embassy two years in a row; the American Women's Association function two years in a row, which is one of the biggest private functions in Dubai .
I have also won the best Wedding DJ in South Africa 2 years in a row in 2010 and 2011 aswell as best Wedding DJ in Gauteng 2022.
Therefore I have played for basically every nationality you can think of and my tastes of music are wide and varied, almost eclectic, this means you get someone who is passionate about the music played but who has the experience to know exactly what will get your guests on their feet. I love entertaining a crowd – not with mindless chat, but with great music.
I like to assess a crowd so that everybody has a great time. How they respond to the music, along with any special requests from yourself and your fellow party goers will determine what I play on the night.
So to sum up why 4 Seasons Mobile Disco should be your first and only choice in entertainment:
We will provide you with the best possible service.
We provide a wide selection of music from the 60s right through to the latest Top 40 hits.
We do not play from a "script" and requests are always welcome – audience participation is actively encouraged. This ensures that your guests are entertained and involved so that they have fun, making your function a night you will all remembe.
We provide a professional and affordable solution to your entertainment needs.
STEVEN J. ASPELING